One side effect of the COVID-19 vaccine that they don't warn you about is tears!
A week ago today I got my first vaccine, and it will be stored in my memory as one of my happiest life experiences.
I am a sensitive person, but I don't usually cry easily.
For example, I rarely cry when I am watching a movie and never at a TV commercial.
So I was quite surprised at the number of times I had to fight back the tears while I was getting vaccinated.
The first time tears sprung to my eyes, I hadn't even stepped inside the vaccination centre yet. I just read the sign taped to the window confirming I was eligible for a vaccine that day.
It was 8am and the centre opened at 9am.
Quite a big queue had formed, and there was a buzz of excitement and camaraderie.
When the doors opened, the organization inside was A+.
Security guards let us in, and once I stepped inside I found I was swallowing back tears again.
There were 6 different stations, and each one had a purpose:
The first confirmed you weren't sick, at another one I was given a new mask and sanitized my hands.
At the next station my personal details were checked, and at the next station a nurse explained all the potential side effects of the vaccine and asked if I consented.
Between each station there were many volunteers guiding people along.
They were efficient, but I never felt rushed.
Everyone's kindness increased my desire to cry.
By the time I got to meet Marigold, the nurse who administered my vaccine, I wished I had brought tissues with me.
Instead I focused on the practical action of taking off my sweater while Marigold adjusted my seat so that I could have the injection in my right arm (I am left handed).
After waiting for 15 minutes in a seating area to check for any immediate side-effects, I was given my next appointment and was all set to go.
When I stepped outside the need to cry disappeared and was replaced with happiness and gratitude.
Gratitude to the scientists who made the vaccines possible, all the essential workers who worked on the front lines, grocery clerks, the delivery drivers, the politicians and everyone else who helped get us through the last year.
When I asked my newsletter readers if they had any unexpected emotions, they put into words their emotions and thoughts so perfectly that I  included some of their replies  here.
The vaccine represents hope!
I think getting the vaccine is a catalyst to the release of all the emotions that have been pent up since the beginning of the pandemic.
Gratitude for the science and people that have been helping, a release of anxiety about getting sick and hope that things are progressing and we may be able to socialize
When I got my 1st shot, I choked up a couple of times because it was so moving… All these people working together to help get everyone vaccinated and turn the tide on this pandemic.
The vaccine represents light at the end of the tunnel
My emotions I felt after I got my vaccine were relief and pride – I felt proud to show my sons that I did it and it made them happy.
 Update
I got my second vaccine, and it was another emotional experience.
I thought the second dose would be different.
I was expecting relief and gratitude, but figured that deep emotion would have worn awa
It hadn't!
The tears sprung to my eyes as soon as the nurse asked for my date of birth 🙂
Here I am leaving the vaccination centre.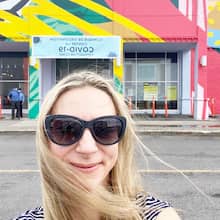 If you haven't had yours yet ( and want one) take some tissues just incase 🙂
Stay safe.